ENGLISH VERSION – CLICK HERE
Blue Tube è un'opera – evento che unisce in unica performance l'happening, il concerto di repertorio novecentesco/contemporaneo, l'elettronica e l'installazione multimediale site-specific.
Al centro della scena un tubo proiettivo nel quale è ¨imprigionata" la flautista performer: in un poetico mix di video arte, sound processing e Performance Art – l'acqua, il suono, i colori, le immagini e la stessa performer danno vita ad un "incantesimo" post-moderno, sul tubo e nello spazio, sollecitando l'immaginazione e la partecipazione dello spettatore su più piani sensoriali.
Il contesto musicale è strettamente connesso per legami tematici e storici al flauto – appendice inseparabile e vera voce della performer – spaziando dal capolavoro senza tempo Syrinx di Debussy alla musica sperimentale e d'avanguardia , con autori come Stockhausen, Sciarrino, Fedele, Glass e Saariaho, in stretto dialogo con la drammaturgia delle immagini che alterna ad hoc metodologie diverse, da video in time line, al video in stile VJ, ai video generativi.
Così – intersecando le suggestioni e i linguaggi artistici più contemporanei  – "BlueTube" sottende un sottile gioco di collegamenti attorno alla necessità di un tramite comunicativo, visualizzato metonimicamente dalla stessa scenografia multimediale che isola la performer, una gigantesca porzione di conduttura:
L'acqua – blu per antonomasia – è elemento vitale, ma necessita di essere incanalata in un complesso sistema di tubature.
Il flauto è un tubo metallico sonoro legato all'elemento vitale del respiro e in arte al colore blu («Rappresentato musicalmente il blu celeste suona come un flauto», Kandinsky).
Il tubo come "media" digitale volto alla condivisione elettronica di informazioni audio/video è un canale tecnologico ormai globale e virale.
Concetto cardine di questa performance audio-visiva è la dicotomia "libertà – costrizione", che si esplica nel contrasto visivo tra movimento e fissità delle immagini, in quello audio tra suoni potenziati dall'elettronica e suoni che arrivano ad ammutolire  o a farsi rumore e nel contrasto site specific tra l'inafferrabilità dell'acqua nel suo scorrere e il suo essere costretta in tubi e canali, concretizzandosi infine –  drammaticamente – nell'opposizione tra la libertà dello spettatore di muoversi nello spazio e la prigionia della performer, che si esibirà appunto costretta in un tubo proiettivo, il BlueTube, interagendo con le videoproiezioni, in un continuo gioco di trasparenze e opacità.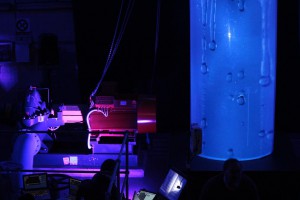 I brani eseguiti dal flauto di Laura Faoro, con l'elettronica di Luca Congedo (ambientazioni sonore e live electronics) e i video di Fabrizio Rosso, sono opere scelte ad hoc dal repertorio flautistico novecentesco e d'avanguardia, connesse da un lato alla tematica del flauto come tubo produttore di suoni e rumori magici (Come vengono prodotti gli incantesimi, S. Sciarrino), o come aulos, canna dalle origini mitologiche e ancestrali (Syrinx, C. Debussy; Donacis Ambra, I. Fedele) dall'altro si tratta di composizioni ispirate al tema concreto e metaforico dell'acqua (NoaNoa, K. Saariaho; Aquarius da Tierkreis, K. Stockhausen), o legate all'idea di una sua costrizione in passaggi obbligati (Spire V, C. Saldicco; Arabesque in memoriam, P. Glass).
Nelle precedenti rappresentazioni, sono state incluse musiche degli italiani Marco Betta con Osservazione del mare, Armando Gentilucci con In acque solitarie, Vittorio Montalti con Labyrinthes  e Cesare Saldicco con Spire V,  del minimalista Philip Glass con il raro Arabesque in memoriam, della finlandese Kaija Saariaho con NoaNoa e dello svizzero Nadir Vassena con Come perduto nel mare un bambino. In incipit un'incursione nel Novecento storico francese con Syrinx di Claude Debussy, che esplora il mito dell'origine del flauto in quanto canna, ovvero  il "tubo" sonoro primordiale per eccellenza.
Spettacolo serale realizzato nella prima versione del 2016 da MM e Canone Inverso per la Giornata Mondiale dell'Acqua, l'evento si è diviso in piu' momenti distinti di performance, della durata di circa 40 minuti ciascuno, ognuno a sé stante, svoltosi nella suggestiva cornice della Centrale dell'acqua di di via Anfossi in Milano, un gioiello di architettura liberty dell'inizio del novecento, parte integrante della performance, in cui lo spettatore si è trovato immerso. La tecnologia è ampiamente adoperata ma esibita il meno possibile per lasciare spazio totale alla suggestione musicale e visiva. Lo spettacolo, dopo la prima, è stato replicato già pochi mesi dopo al LAC di Lugano, e successivamente presentato da Serate Musicali per l'inaugurazione della Centrale dell'Acqua di Milano (6 e 7 luglio 2018, quattro repliche).
Scarica la presentazione di Bluetube(italiano)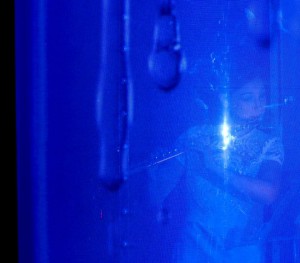 ENGLISH VERSION
BlueTube is a intermedia concert, blending contemporary music, electronics, videoart and multimedia site specific installation in a single performance,
A tube, where the flutist is imprisoned in, in in the center of the stage: water, sound, colours, images and the performer herself bring to life a post modern spell, on the tube and on the space, stimulating the spectator's imagination and partecipation on multiple sensorial levels, in a poetic mix of videoart, soundprocessing and performance art.
Both in thematical and historical terms, the musical context is strictly linked to the flute, an indivisible appendix of the performer and her true voice as well. Repertoire goes from Debussy's Syrinx to experimental/avant-garde music, with such composers like Stockhausen, Sciarrino, Fedele, Glass, Saariaho: a close dialogue with the dramaturgy of the images that alternates different methodologies like timelines, VJ, generative.
Therefore, crossing suggestions and languages, BlueTube embodies a complex links game around of the need of a communication media, where the scene itself (a giant portion of a water pipe enclosing the performer) acts as a callback.
The water, blue par excelellence, is a vital element that needs to be channelled through complex water pipes systems.
The flute is a sonic metal tube, linked to the breath, another vital element; Kandinsky associates it to the blue ("Represented in music, sky blue sounds like a flute", Kandinsky).
The tube is a place of sharing information electronically, every day more global and viral.
The pivot concept of this performance is the dichotomy "freedom-constraint", explained in the contrast between movement and fixity of images, beween electronically enhanced sounds and sounds that may become noise or silence, between the elusivity even if constrained in channels and pipes. Finally, and more dramatically, the opposition between the freedom of the audience and the imprisonement of the performer, playing inside a projectional tube – the BlueTube – interacting with videos, in a never ending game of transparencies and opacities.
Laura Faoro, with Luca Congedo (soundscapes and live electronics) and Fabrizio Rosso (videos) performs on the flutes some pieces carefully chosen from the contemporary music repertoire, related to the flute as a maker of sounds and magic noises (Come vengono prodotti gli incantesimi, S. Sciarrino), or like an aulos, the legendary pipe described in the greek myths (Syrinx, C. Debussy; Donacis Ambra, I. Fedele); or, on the other side, music inspired by water both specifically and metaforically (NoaNoa, K. Saariaho; Aquarius , from Tierkreis, K. Stockhausen); or, finally, to the water flowing into a intricate water pipe (Spire V, C. Saldicco; Arabesque in memoriam, P. Glass)
In the earlier versions of the projects, the perfomance has also featured other pieces by composers like Marco Betta (Osservazione del mare), Armando Gentilucci (in acque solitarie), Vittorio Montalti (Labyrinthes), Nadir Vassena (Come perduto nel mare un bambino).
Commissioned by Metropolitana Milanese in 2016 and produced by Metropolitana Milanese and Canone Inverso during World Water Day 2016, the event is divided in more performances, lasting about 40 minutes each, in a real water pipe plant built around 1900, a integrating part of the perfomance that allowed a total video and sound immersion of the audience. Technology is widely exploited but kept as hidden as possible.
The show has been replied at the end of 2016 at LAC (Lugano).
In 2018 BlueTube was staged on two days (two shows per night) for the grand opening of "Centrale dell'Acqua", the new Water Museum in Milan.