COMFORT ZONE
home CꜴmera VIDeo performance per ① flautista solo e ⑨ live electronic devices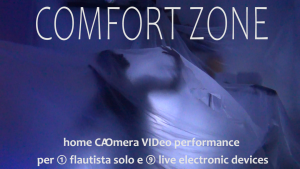 QUI il LINK::
IDEA, SET UP, PARTITURA MUSICALE E SCENICA
Laura Faoro
con un testo tratto dalla POESIA "NOVE MARZO DUEMILAVENTI"
di Mariangela Gualtieri
FLAUTISTA E PERFORMER
Laura Faoro
RIPRESA AUDIO, VIDEO E ASSISTENZA TECNICA
Carlo Centemeri
"COMFORT ZONE – home CꜴmera VIDeo performance per ① flautista solo e ⑨ live electronic devices" è una performance multimediale breve che ho creato come commissione per la rassegna in streaming #MusicaDaCamera del Centro d'Arte di Padova, un momento di "evasione fantastica", un mio intimo, personalissimo contributo da musicista in quarantena chiusa nel suo salotto di casa.
COMFORT ZONE ha debuttato online il 10 aprile 2020 alle h.19 sui canali Facebook, Vimeo e Web del Centro d'Arte di Padova (www.centrodarte.it )
In COMFORT ZONE le sonorità si mescolano tra musica contemporanea colta, free improvisation, live electronics e suoni campionati, il tutto interpolato con echi gregoriani e barocchi, memorie di antiche pestilenze.
Il flauto – suonato acustico ed elettrico – diventa esso stesso oggetto teatrale, un bastone magico rituale, per ostracizzare la paura e il pericolo, in una contaminazione di tecniche e stili vicini e lontani.
Il video – mezzo di comunicazione privilegiato in questo periodo – è il canale espressivo cardine della performance oltre che suo tramite di diffusione: il gioco delle inquadrature simula gli occhi di telecamere di sorveglianza, che catturano movimenti, tagli di luce, gesti, immagini e parole, nello spazio del salotto di casa reinventato a palcoscenico site specific.
L'ottica è quella di un teatro "povero" 2.0, fatto con quel poco di attrezzeria e tecnologia low cost disponibile in casa, per raccontare in immagini sonore il mio "spazio di sicurezza", il mio "ecosistema" domestico, divenuto cella di isolamento durante questa pandemia.
Ho scelto dunque una modalità espressiva in cui la "contaminazione" si trasforma in catartica astrazione artistica del momento che tutti stiamo vivendo: una situazione schizofrenica per la nostra stessa identità personale, in bilico ogni giorno tra "l'essere UN pericolo" e "l'essere IN pericolo".
Siamo ancora in attesa, all'erta però… così che quando il nostro tempo tornerà nostro, quando dall'acquario che mi sono immaginata usciremo tutti, avremo davvero mani pronte a "stare… più delicate nel fare della vita", come dice Mariangela Gualtieri nella poesia "Nove marzo duemilaventi", con cui ho voluto chiudere il mio lavoro.
La scenografia trae ispirazione dal nucleo di un lavoro precedente di teatro musicale, che esplorava il tema del silenzio: le "Tre Sorelle" di A. Cechov, per la rilettura registica di LauraPasetti e le musiche di RosalbaQuindici, progetto sviluppato in seno ad una residenza teatrale del 2018 con il mio ensemble The Merry Wives Trio.
E' consigliato l'ascolto in cuffia e la visione da uno schermo PC o TV.
Facebook: Centro d'Arte Padova ( fb.me/centrodarte.it )
Vimeo: Centro d'Arte Padova ( www.vimeo.com/centrodarte )
Web: www.centrodarte.it ( https://www.centrodarte.it/concerti/2020-musica-da-camera/ )
******************************************************************************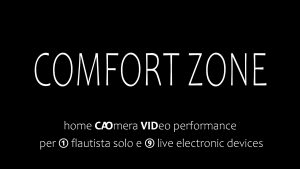 HERE the LINK:
IDEA, SET UP, MUSIC SCORE AND SCENIC WRITING
Laura Faoro
with a text from the POEM "NOVE MARZO DUEMILAVENTI"
by Mariangela Gualtieri
FLUTIST AND PERFORMER
Laura Faoro
SOUND AND VIDEO ENGINEERING, TECHNICAL SUPPORT
Carlo Centemeri
"COMFORT ZONE – home CꜴmera VIDeo performance per ① flautista solo e ⑨ live electronic devices" is a multimedia performance I staged in my living room, a commission for the streaming festival #MusicaDaCamera, a "fantastic escape", my intimate, personal contribution as a musician in quarantine.
COMFORT ZONE had its debut online on April 10th, 2020, at 7 p.m., on Facebook, Vimeo and web channels of Centro d'Arte di Padova.
In "COMFORT ZONE" contemporary classical music blands with free improvisation, live electronics and sampled sounds, all interpolated with Gregorian and Baroque echoes, reminiscent of ancient pandemics.
The flute – played acoustic and electric – becomes itself a theatrical object, a ritual magic stick, to ostracize fears and danger, in a contamination of new/old techniques and styles.
The video form – privileged means of communication in this period – is the expressive key and diffusion channel of the performance: the use and change of shots simulates the eyes of surveillance cameras, that capture movements, cuts of light, gestures, images and words , in my living room reinvented as a site specific stage.
The perspective is that of a "poor" theater 2.0., made with the little equipment and low cost technology available at home, to express in sound images and represent my "safety space", my domestic "ecosystem", that has become an isolation cell during this pandemic.
I chose an artistic expression in which "contamination" becomes benign, cathartic abstraction of the moment we are all experiencing, so schizophrenic for our own personal identity, in struggle every day between "being A danger" and "being In danger".
We are still waiting, but, be careful! In this way, when our time returns to be ours, when we all get out of the aquarium that I imagined, we will really have our hands ready to be … more delicate in "making life", as Mariangela Gualtieri says in the poem "Nove marzo duemilaventi", with which I wanted to close my work.
The scenography draws inspiration from a previous work of musical theater, which explored the theme of silence: "Three Sisters" by A. Chekhov, by L. Pasetti, (rereading and direction) and R. Quindici (music), a project developed in within a 2018 theatrical residence with my ensemble The Merry Wives Trio.
Listening with headphones and watching from a PC or TV screen recommended.
Facebook: Centro d'Arte Padova ( fb.me/centrodarte.it )
Vimeo: Centro d'Arte Padova ( www.vimeo.com/centrodarte )
Web: www.centrodarte.it ( https://www.centrodarte.it/concerti/2020-musica-da-camera/ )
PRESS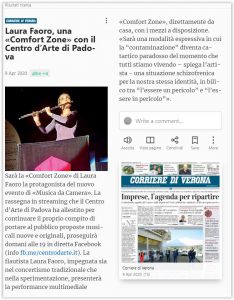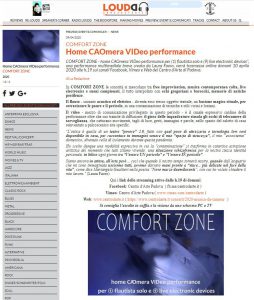 QUI: Link COMFORT ZONE su Loudd