Stockhausen, his Muses
KATHINKAs GESANG _ HARLEKIN _ AVE
Stockhausen instrumental music-theatre masterpieces
Laura Faoro, flutes
Roberta Gottardi, clarinet and basset horn
Sound engineering / live electronics, Francesco Canavese, Tempo Reale
Lighting design, Luciano Gottardi, Massimo Consoli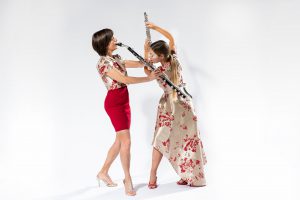 Roberta Gottardi – Laura Faoro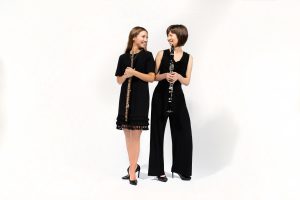 An immersion in the musical theatre of the German composer: a unique performance reproposing together – for the first time in Italy and abroad – his greatest masterpieces for flute and clarinet, written for his two muses and musicians, Suzee Stephens and Kathinka Pasveer.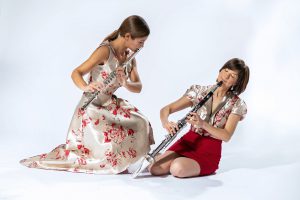 Roberta Gottardi and Laura Faoro are both fully involved in musical theatre: both winners of the Stockhausen Prize [Roberta in 2001, awarded by Stockhausen himself for HARLEKIN ; Laura in 2019 for KATHINKAs GESANG] and winners together of the Stockhausen Prize 2022 for AVE, following a rigorous study conducted directly with Suzee Stephens and Kathinka Pasveer,
they bring on stage a show of "instrumental theatre", a brand new focus on the greatest masterpieces for flute and clarinet composed by Stockhausen:
HARLEKIN
, for solo clarinet,
KATHINKAs GESANG
for flute and electronics (with the original scenography), and
AVE from MONTAG aus LICHT
, for alto flute and basset-horn.
---
AVE for alto flute and basset-horn (1984-85)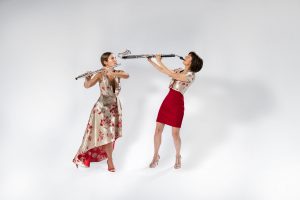 Taken from the third act of the opera MONTAG aus LICHT, AVE closes the scene of Eva's spell (Evas Zauber). It's a 23-minute duet where flute and basset-horn take on the role of real surrealistic characters, theatrically interpolating sounds, mime and movements. It is the story of an encounter-clash, a slow mutual unveiling that opens with Eva (the basset-horn), alone on the scene while contemplating herself in a mirror, in a blind counterpoint with an invisible flute. The gradual encounter between the two figures, thus, brings out their reciprocal characters, opposite and complementary: the femininity of Eva contrasts with the figure of the flutist disguised as a man, in a game of "musical" seduction where the two apparent "monologues" gradually converge in a final section that sublimates the meeting into a sort of mystic union with the flavor of a prayer, AVE, in fact.
---
HARLEKIN for clarinet, 1975 The traditional character is born again in a new form: Harlekin is now a musician. He plays and dances in rapid circular figures from which a concentric spiral emerges. Harlekin is a messenger of dreams.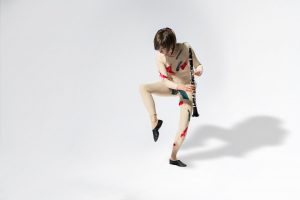 The protagonist then turns into a cheerful builder elaborating his melody by getting closer to the audience and later becoming a lovesick and charming poet, a pedantic teacher drawing his own melody in the air, a crafty joker having fun and getting mad with his instrument, a passionate dancer lost in the dance to the point of forgetting the notes of his song. In the end, when almost nothing remains of the theme except rhythm, the protagonist remembers the small circular figures of the beginning. Transforming himself into a twirling exalted spirit, he takes up again a spiral using the sounds and the steps, playing – for the last time – the notes of his melody with a bird's screech.   KATHINKAs GESANG als LUZIFERs REQUIEM for flute and electronics, 1983 It constitutes the whole 2nd scene of SAMSTAG aus LICHT, a monumental cycle of 7 stage works conceived by Stockhausen for each day of the week. In SAMSTAG Kathinka's "song" is the Requiem for Lucifer, a character however only partially in line with the common idea of this figure, re-read by Stockhausen as the eternal imperfect and, therefore, the archetype of every earthly soul. In this sense this Requiem is thought "for every living thing looking for the eternal light".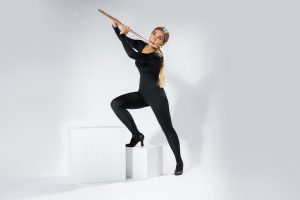 Kathinka's song is built as a sort of soul ascension in 24 stages, following the musical form of the "24 etudes". A ritual in music aimed at detaching the listener from the mortal senses (the 5 senses to which Stockhausen adds the thought). Each stage/etude is more difficult than the previous one, exploring new ways of expression of the flute timbre starting from the Lucifer formula. The process of elevation – accomplished through the difficult completion of each level – is recalled by two huge Mandalas, that, in their segments, report the inspiring idea of each stage, and dominate the scene with their grandeur. The cat flutist (the animal figure of SAMSTAG) ascends moving from one mandala to the other until a final spiral dance, to disappear in a long laughter in music, behind a curtain, where the 11 trumpet sounds (core of the Lucifer formula) and a cry of liberation … towards a new reincarnation, towards eternal extinction or towards the entrance into the "LIGHT". The answer is left open by Stockhausen himself. A few months after the premiere, Stockhausen decided to make a new version for flute and electronics in hexaphony, declaring to have obtained sounds of a beauty never experienced before, "a magical world that surrounds the solitary voice of the flute".   ROBERTA GOTTARDI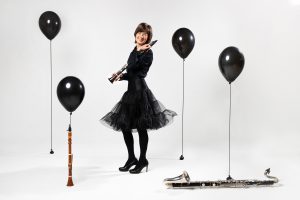 Reference interpreter for the musical theatre work HARLEKIN, by Karlheinz Stockhausen, conceived for a single clarinetist-dancer-mime artist, Roberta had the opportunity to work with the composer himself and then to perform this work in his presence in Kürten in 2001; her interpretation was awarded with the first prize in the Stockhausen Foundation competition. Roberta Gottardi's interests range from late Baroque music on period instruments to contemporary repertoire, performed both as a soloist and in ensemble; she also plays all the other instruments of the clarinet family, from E-flat clarinet to basset-horn and bass clarinet.   LAURA FAORO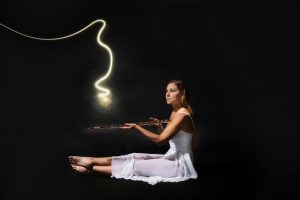 She is the winner of the 2019 Stockhausen Prize with KATHINKAs GESANG, a recognition never before achieved by an Italian flutist. With this piece she made her debut in the same year for the Centro d'Arte di Padova (with SaMPL and A. Vidolin as sound director) and a few months later at the Teatro Valli in Reggio Emilia for Festival Aperto – I Teatri 2019 (with Tempo Reale), first Italian flutist to perform this difficult masterpiece in its entirety, by heart and in stage form. Active as a soloist (Milano Musica, Festival Aperto, Serate Musicali, MA / IN Festival, RSI etc.) and as a performer (Piccolo Teatro, Milan; LAC Lugano; Sala Umberto, Rome) she is the creator of several intermedia projects, hybridizing performative languages ​​to convey the artistic depth of contemporaneity in a simple and direct way; since 2013 her projects have been awarded with various prizes and awards.  
NEWS!
The project had its debut on June 2022, at Teatro Lirico G. Gaber in Milan, for the Teatro Lirico new season 2021 -2022, in collaboration with Festival SPIRITO DEL TEMPO | Teatri del Suono d'Oggi.
The performance of AVE by Laura Faoro and Roberta Gottardi was awarded the STOCKHAUSEN PRIZE 2022 in July 2022
Kölner Stadt Anzeiger said about AVE performance by Laura and Roberta at Stockhausen Konzerte und Kurse – Kurten in July 2022:
"Letzter Schliff für Teilnehmer
Auf diesem musikalischen Niveau ging es weiter. Die Teilnehmer der Stockhausen-Kurse sind reife Künstlerinnen und Künstler. Sie lassen sich hier den letzten Schliff für die Interpretation von Stockhausens Musik geben. (…)"
Bewegung und Tanz
Nach der Pause wird "AVE" gespielt, ein Stück für Bassetthorn und Altflöte. Es stammt aus seiner Oper "Montag" aus "Licht" und entstand 1984. Hier interagieren die beiden Solistinnen Laura Faoro (Altflöte) und Roberta Gottardi (Bassetthorn) nicht nur musikalisch, sie bewegen sich, sie tanzen und spielen. Dabei setzen sie Stockhausens Idee um, den Tonraum in Viertel- und Achtelschritte aufzuteilen, satt in die üblichen Halbtonschritte. Sie bringen Zischlaute und Tonsilben hervor und erweitern das Spektrum ihrer Instrumente erheblich. Es scheint keine Grenzen zu geben, alles wirkt spielerisch. Doch Gesten und Musik sind vorgegeben.
Das Ganze klingt wie eine endlose Melodie, wie eine sich fortspinnende Erzählung, in Töne gegossen. Behutsam unterstützten Kathinka Pasveer und Juan Andrés Verdaguer die Musiker des Abends mit ihrer perfekten, unaufdringlichen Klangregie."
---
Here the photo gallery of the concert at Teatro Lirico G. Gaber in Milano by Grazia Lissi and Alberto Panzani: